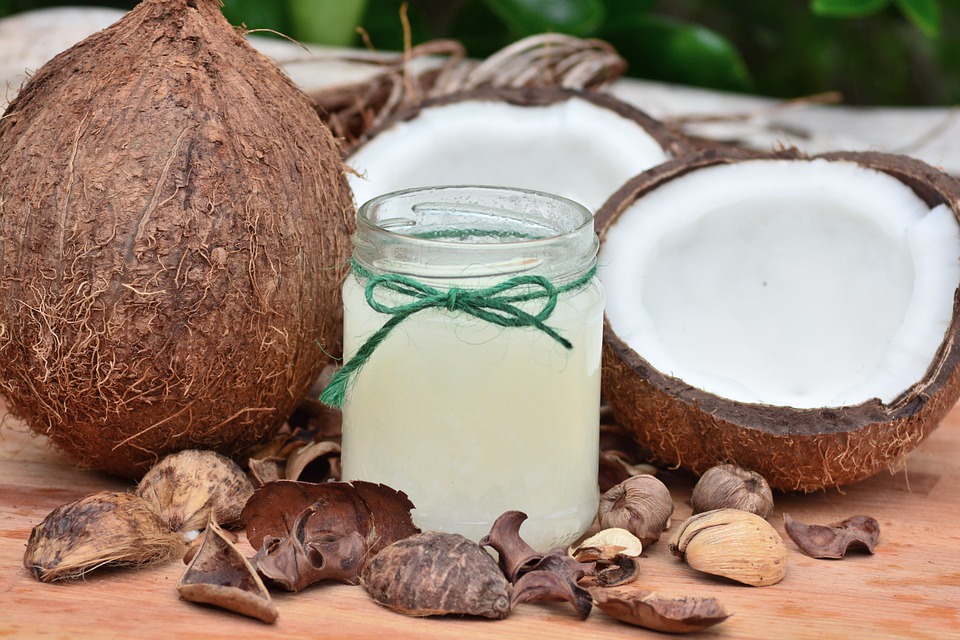 Coconut Oil has many benefits as a natural remedy
Coconut Oil has many health benefits as a natural remedy and many find it is amazing in many ways! For centuries, coconut oil has been considered a vital source of food for health and general well-being.
In tropical countries where coconut palm trees abound, locals have long been benefitting from this so-called "Tree of Life". Research shows that virgin coconut oil, like mother's milk, is rich in lauric acid which is known for its antiviral, antibacterial, antimicrobial, and antiprotozoal properties needed for good health and well-being.
The benefits of Coconut Oil is a book that tells about the bountiful nutritional treasure trove of the humble coconut that most of us are totally unaware of.
Some of These Benefits of Coconut Oil Include:
Improve and protect your skin!
Help you burn fat!
Provide your body with the healthiest nutrients found in nature!
Increase your energy!
And help you avoid heart disease, cancer, thyroid-related problems and so much more!
But there are still some very important things you MUST know to benefit the most from coconut oil…
The following is an excerpt of a book about Coconut Oil that tells of its amazing health benefits. (The links in this post are affiliate links for a commission to help pay for this blog) You can get the eBook or the Physical Book shipped to you. A wealth of knowledge worth every penny.
In this book you will learn among other things that firstly, not all coconut oil is created equal—some are better than others. As was the case when coconut oil was used heavily in the food processing industry years ago, there is still a lot of refined coconut oil in circulation. Obviously, the more processed the oil, the fewer health benefits it possesses.
Some points covered in this book are:
It's no secret that breastfeeding is about the best thing a mother can do to boost her child's immune system. What makes mother's milk so healthy is that it contains high amounts of lauric acid. Besides mother's milk, there are only three dietary sources of lauric acid – and coconut oil is the most concentrated of the three!
Researchers have discovered that in cultures where unrefined coconut oil is a part of the everyday diet, there is less obesity and less lifestyle-related disease. Unfortunately, very little coconut oil is consumed in the U.S. and metabolic syndrome along with its symptoms of obesity, diabetes and heart disease—is reaching epidemic proportions!
Over 13 million Americans suffer from low thyroid function with little understanding of the cause. It's really no wonder because most processed foods contain iodine blockers—and iodine is essential for optimum thyroid function! If you're cooking with vegetable oil—it might be time to stop for your thyroid's sake! Plus, without a healthy thyroid, weight loss is nearly impossible—, especially for women.
People living in the tropics have beautiful, wrinkle-free skin because coconut oil is not only part of their diet—but also their beauty regimen! Coconut oil is a naturally moisturizing cleanser—and an effective sunscreen, blocking out 20 percent of harmful rays… thanks to the medium-chain fatty acids that protect and heal the skin at the same time. And good for the hair when added to shampoos.
Alzheimer's is on the rise—but you can do something now to protect your brain from the devastating effects of this savage disease! How? By helping your body produce ketones—an alternative energy source for your brain! When MCTs—medium chain triglycerides—are metabolized by the body, ketones are created
Cancer cells feed and grow in our body until the illness can eventually take over and ruin our health. And that's only if it doesn't kill us. Don't be terrified by cancer anymore! Because researchers have discovered it's possible to actually "starve" cancer cells. This pro-active defense leaves the body more able to fight the disease than being assaulted with chemotherapy!
Detoxing is quite popular these days—but beware! Many detox methods found on the internet are not grounded in science but are instead "fad" diets meant to make someone else a lot of money! Coconut oil has amazing detox abilities and bolsters your energy during a detox program!
Heart disease is a scary disease often treated with even scarier drugs—like statins! Statins (cholesterol lowering drugs) deplete the body of vital heart-nourishing nutrients and might do harm! Coconut oil is full of heart-healing benefits and can help prevent the need for such drugs—and even help keep you from getting sick in the first place!
Everyone has a small amount of yeast living in their mouth and intestines. It serves an important role when it comes to digestion and nutrient absorption, but when it overpopulates—watch out! It actually breaks down the walls of the intestines and seeps into the bloodstream, where it releases toxins. This leakage can cause a number of health conditions! In fact, more people have illnesses related to yeast, or Candida, than realize… maybe you're one of them.
It may sound too good to be true, but mountains of research prove—coconut oil can do wonders for your health! As you've seen here, this one simple oil you can purchase right off the shelf at your local grocer can.
You can learn so much more about Coconut Oil at The Coconut Mama Website. Try it.
Coconut as a Remedy for Chronic Fatigue Syndrome
Like all things pure and natural, the virgin coconut oil is extracted from fresh coconuts, unlike other commercial grade oil which came from dried coconut meat of copra. Virgin coconut oil has an important role in finding treatment and remedy for many of the illnesses brought upon by an unhealthy lifestyle and the refined diet of modern living.
Get this book to learn about the many benefits of Coconut Oil
Coconut Oil has fatty acids that assist the metabolism:
According to research, coconut oil has the highest source of saturated fats and medium chain fatty acids which is necessary to increase metabolism and are more easily digested than fats found in other oils. The medium chain fatty acids in coconut oil are absorbed quickly by the tissues and converted into energy. People suffering from chronic fatigue would gain many benefits when they take coconut oil in their diet.
Chronic Fatigue Syndrome used to be considered an imaginary ailment. But nowadays, it has been affecting women between 30's and 50's. This has become a problem of growing concerns among 3 million Americans and 90 million people worldwide.
Chronic fatigue syndrome (CFS) is a condition characterized by prolonged and extreme tiredness that is not relieved by rest and is not directly caused by other medical conditions. This fatigue can be so severe that it can keep us from our in regular activities. CFS may subsequently cause possible social isolation as well as lifestyle restrictions.
Research on Coconut Oil:
Researchers are still in a quandary as to the cause of this condition. However, some suspect that it could be caused by a virus called Epstein-Barr or human herpesvirus-6 (HHV-6), though no definite viral cause has been identified. According to research, CFS may be caused by inflammation of pathways in the nervous system. This inflammation seems to act as an immune response.
CFS may develop when a viral disease is complicated by a problem with the body's immune response. Different factors such as age, prior illness, stress, environment, or genetics may also play a role.
The Centers for Disease Control (CDC) describes Chronic Fatigue Syndrome as a distinct disorder with specific symptoms and physical signs, based on ruling out other possible causes. The number of persons with CFS is unknown.
Symptoms of Chronic Fatigue Syndrome may be similar to those of common viral infections such as muscle aches, headache, and fatigue often developing within a few hours or days and lasting for six months or more.
Main symptoms of Chronic Fatigue Syndrome:
Fatigue or tiredness, the kind of exhaustion that has never been experienced before by the patient, and which lasts for at least six months and is not relieved by bed rest
Fatigue that is so severe it restricts activity (serious fatigue develops with less than one-half of the exertion compared to before the illness)
Other symptoms of Chronic Fatigue Syndrome:
Fatigue lasting more than 24 hours after an amount of exercise that would normally be easily tolerated
Mild fever (101 degrees F or less)
Sore throat
Lymph node tenderness in the neck or armpit muscle weakness all over or multiple locations, not explained by any known disorder Muscle aches also known as myalgias
Feeling unrefreshed after sleeping an adequate amount of time
Headaches, different from previous headaches in quality, severity, or pattern
Joint pain, often moving from joint to joint (migratory arthralgias), without joint swelling or redness
Forgetfulness or other similar symptoms including difficulty concentrating, confusion, or irritability
Once you experience persistent, extreme fatigue, with or without other symptoms of this disorder, contact your professional health care provider. Other more serious disorders can cause similar symptoms and should be ruled out.
With coconut oil now considered as a functional food, modern medicine is looking at it as a powerful tool against disease of the immune system as well as chronic fatigue syndrome. Much research has been undertaken on its effectiveness, and further studies are currently underway on the outstanding nutritional value of coconut oil.
Coconut trees can be found in almost all of the 7, 107 islands of the Philippines — a hot, humid, and tropical country located in Southeast Asia. For centuries, the inhabitants of these islands have turned to the coconut tree — the so-called "Tree of Life" — as a source of materials for shelter, food, and alternative medicine. The coconut tree is called "Tree of Life" because almost all of its parts can be utilized. The trunk is used as lumber; the woven leaves are used for roofing; and even midribs from the stems are brought together to form a native broom.
More About Coconut:
Coconut oil is a natural product that comes from the coconut palm. This oil is derived from fresh coconut meat to produce a food supplement known as Virgin Coconut Oil (VCO).
Using the "cold press" method, the coconut oil is extracted by grating the fresh coconut and by squeezing the coconut meat. The coconut milk is put into a sanitary container, covered, and allowed to stand for about 24 to 36 hours. The "virgin" coconut oil which naturally separates from the water content of the coconut milk is then transferred to another container. At that stage, the VCO is ready for consumption without cooking, heating, or any other process that might take away some of the nutritional properties of the virgin oil.
Coconut Oil as a Skin an Hair Treatment:
Lately, coconut oil has been given much attention not only for its use in cooking but also for its value as a hair and skin care product. The VCO is actually used as a hair tonic and skin moisturizer. Many Filipinos use coconut oil to maintain youthful, wrinkle-free skin. VCO can also be used to treat sunburned skin.
Research findings show that VCO is an effective ingredient for skin care treatment. The virgin coconut oil is high in antioxidants that penetrate into the concealed tissues of the skin. The oil helps protect the body against the formation of free radicals which are molecules that rob electrons from the millions of cells in the human body. Free radicals damage and destroy these cells including the body's connective tissues. These tissues are responsible for keeping the skin elastic and flexible. VCO helps to strengthen these connective tissues and aid in the prevention of skin sagging and wrinkling. VCO softens and moisturizes the skin, and removes dirt from the outer layer of the skin making it shiny and smooth.
Many skin care solutions in the market are made from vegetable oils that have gone through various refining processes, making these products prone to free radical generation. These processes have stripped these products of most of the essential antioxidants.
Virgin coconut oil is still a very good skin care treatment alternative since it has retained its antioxidant properties. The antibacterial, antiviral and anti-fungal properties of VCO are from the presence of lauric acid in the oil. Lauric acid helps prevent disease-causing bacteria that may lead to skin infections.
Medical experts now advise people to take at least two tablespoons of VOC a day as a preventive measure against bacterial infection.
VCO kills many forms of viruses and bacteria that cause pneumonia, ear and throat infections, and other illnesses. Instead of taking antibiotics and other synthetic drugs, people should now consider the use of VCO as a food supplement and over-all health aid.